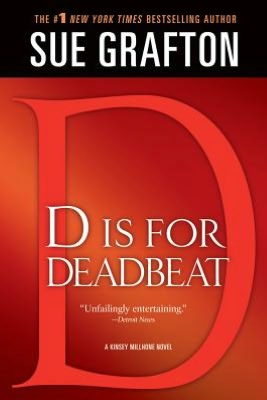 Title: D is for Deadbeat
Author: Sue Grafton
Series: Kinsey Millhone #04
Pages: 240
Source: personal copy

Rating:





Once again, Kinsey Millhone, the feisty and resourceful P.I. has taken on a case with a deadly twist.Alvin Limardo hires Kinsey to deliver $25,000 to a fifteen-year-old kid. Seems pretty straightforward – or it would have been in Limardo wasn't as phony as his retainer check: his past includes a criminal record and a reputation for shoddy deals. Burned but determined, Kinsey tracks him down only to discover that someone else has gotten there first. The deadbeat is now just plain dead. Finding the killer will be a tough assignment, but maybe not as tough as making a stiff pay his debts.
I also managed to finish book number 6 in the hotel last night. It was Sue Grafton's D is for Deadbeat, the fourth book in her Alphabet/Kinsey Millhone Mystery series.
These books are quick reads. The plots aren't overly complex, they're just good little mystery stories. It's the kind of book I consider a "beach read". I have the rest of these books (up to the current one, "R"), and I plan to continue reading them.
Page count: 1,884/15,000