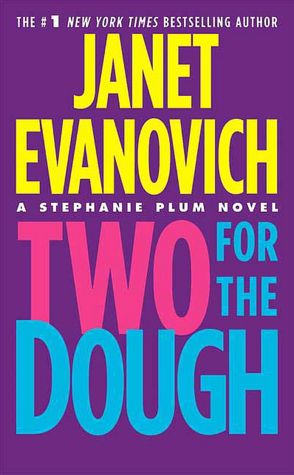 Title: Two for the Dough
Author: Janet Evanovich
Series: Stephanie Plum #02
Pages:  301

Rating:





Stephanie is after a new bail jumper, Kenny Mancuso, a boy from Trenton's burg. He's fresh out of the army, suspiciously wealthy, and he's just shot his best friend. With her bounty hunter pal Ranger stepping in occasionally to advise her, Stephanie staggers knee-deep in corpses and caskets as she traipses through back streets, dark alleys, and funeral parlors. And nobody knows funeral parlors better than Stephanie's irrepressible Grandma Mazur, a lady whose favorite pastime is grabbing a front-row seat at a neighborhood wake. So Stephanie uses Grandma as a cover to follow leads, but loses control when Grandma warms to the action, packing a cool pistol. Much to the family's chagrin, Stephanie and Granny may soon have the elusive Kenny in their sights. Low on expertise but learning fast, high on resilience, and despite the help she gets from friends and relatives, Stephanie eventually must face the danger alone when embalmed body parts begin to arrive on her doorstep and she's targeted for a nasty death by the most loathsome adversary she's ever encountered. Another case like this and she'll be a real pro.
This was a short one, I finished it today!
Book #50 was Two for the Dough, the second book in Janet Evanovich's Stephanie Plum series.
I'm really liking this series. Very amusing and entertaining. I was ready to move on to the next book when I realized that while I have #4, #3 is not yet in my possession. Maybe I'll actually have to go to the library or something crazy like that.
And what am I doing now that I've reached 50 books? Well, I'm certainly not going to stop reading. I guess I'll just have to come up with a different title.
Book count: 50/50 – 100%
Pages in book: 301
Page count: 18,011
15,000 page goal reached 6/14/05!