2005: #52 – Four to Score (Janet Evanovich)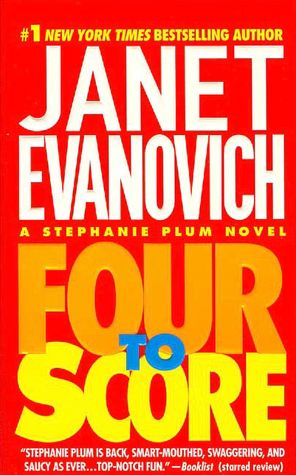 Four to Score
Stephanie Plum #04
Romantic Suspense
Farrar, Straus, and Giroux
June 15, 1999
338

Working for her bail bondsman cousin Vinnie, Stephanie Plum is hot on the trail of revenge-seeking waitress Maxine Nowicki, whose crimes include bail jumping, theft, and extortion. Someone is terrifying Maxine's friends, and those who have seen her are turning up dead. Also on the hunt for Maxine is Joyce Barnhardt, Stephanie's archenemy and rival bounty hunter. Stephanie's attitude never wavers - even when aided by crazy Grandma Mazur, ex-hooker and wannabe bounty hunter Lula, and transvestite rock musician Sally Sweet - and even when Stephanie makes an enemy whose deadly tactics escalate from threatening messages to firebombs.
Book #52 was Four to Score, the fourth book in Janet Evanovich's Stephanie Plum series.
It's about this time in the series that you start to lose track of just how many cars Stephanie's lost, and how many times she's almost slept with someone. Not to mention, how many times her gun and/or pepper spray are somewhere else.
Book count: 52
Pages in book: 294
Page count: 18,649
15,000 page goal reached 6/14/05!
50 book goal reached 7/19/05!