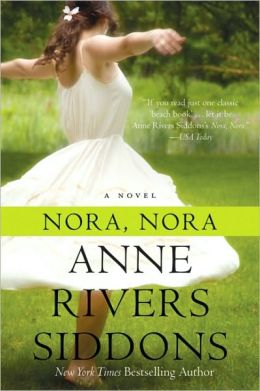 Title: Nora, Nora
Author: Anne Rivers Siddons
Pages:  384

Rating:





It is summer, 1961, and Peyton McKensie, motherless since birth and now 13, doesn't quite know what to make of Nora Findlay. Nora smokes, swears, wears short shorts, and when she listens, she looks at you as if she's never heard a human voice before. She also laughs a lot, something that's been missing for a long time in the McKensie household, and she seems to have done just about everything fun there is to do in the world. Soon, even Peyton's somber father is humming while he shaves. When Nora takes a teaching job at the local high school, it seems like she might stay on in Lytton forever, despite her outlandish ways and the snide comments made about her by some of the neighbors. As time foes on, Peyton begins to realize that underneath Nora's high-spirited, feisty facade, something is troubling her, something from her past. And though Nora has tried to run away from the life she had before, a secret follows her, on that is so shocking, it will stun the residents of this small, segregated town and forever change the life of young Peyton.
My thoughts:
Book #64 was Nora, Nora, by Anne Rivers Siddons.
I have a strange relationship with Anne Rivers Siddons books. They always start off really slow for me, and I have to struggle through the first several chapters. However, they really pay off in the end. I guess maybe there's just too much background and set-up for me. So, I like them, but I wish she'd get to the story sooner.
Book count: 64
Pages in book: 384
Page count: 22,739
15,000 page goal reached 6/14/05!
50 book goal reached 7/19/05!