2006: #3 – Lost Innocents (Patricia MacDonald)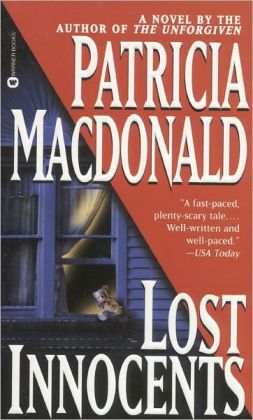 Lost Innocents
Suspense Fiction
Grand Central Pub
1999
359

A pulse-pounding novel of domestic bliss gone horribly awry. After a 15-year-old babysitter disappears from a park with her infant charge, Maddy Blake, like everyone in this sleepy suburban town, is shaken. The teenager's naked body is recovered but a manhunt for the missing toddler turns up nothing. Next Maddy is in an auto accident, and invites the grim out-of-towners in the other car to stay at the Blake's home while their van is repaired. With home life strained, Maddy turns to to the local priest, whose vows are challenged by her beauty and her feelings for him. Maddy has followed the case of the missing baby with with some detachment -- until the police arrive at her door. Maddy's husband, Doug, recently acquitted of sexual misconduct charges levied by the shy daughter of the local police chief, has become the chief suspect in the disappearance. Maddy's world begins to unravel.
Book #3 was Lost Innocents, by Patricia MacDonald.
This wasn't a bad little suspense book. The only thing that sort of bothered me about it was that an awful lot of characters were introduced. Sometimes I had problems figuring out how they fit into the story. However, it was a good quick read, and I needed that after the last book.
Book count: 3
Pages in book: 295
Page count: 1,154
Words in book: 89,833
Word count:340,995