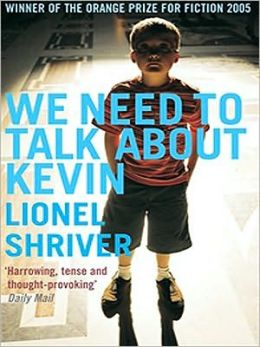 Title: We Need to Talk About Kevin
Author: Lionel Shriver
Pages:  400

Rating:





A stunning examination of how tragedy affects a town, a marriage, and a family.

That neither nature nor nurture bears sole responsibility for a child's character is self-evident. But such generalizations provide cold comfort if it's your own child who's just opened fire on his fellow algebra students and whose class photograph-with its unseemly grin-is blown up on the evening news coast-to-coast.

The question of who's to blame for teenage atrocity tortures our narrator, Eva Khatchadourian. How much is her fault? Two years ago, her son, Kevin, murdered seven of his fellow high-school students, a cafeteria worker, and a popular algebra teacher. Because he was only fifteen at the time, he received a lenient sentence and is now in a prison for young offenders in upstate New York.

We Need to Talk About Kevin offers no pat explanations for why so many white, well-to-do adolescents have gone off the rails while growing up in suburban comfort. Instead, Lionel Shriver tells a compelling, absorbing, and resonant story while framing these horrifying tableaus of teenage carnage as metaphors for the larger tragedy of a country where everything works, nobody starves, and anything can be bought but a sense of purpose.
My thoughts:
Book #76 was We Need To Talk About Kevin, by Lionel Shriver.
I really wasn't expecting much when I picked up this book for $4 at the book fair. Man, was I wrong. This book was extremely captivating. At first, I was concerned that the narrator's language was way too flowery and extravagant, but once you got to know her a little, you realized that it fit, exactly. And despite these letters being written after Thursday, information is handed out in tantalizing little nuggets, and you don't know the full story until nearly the very end. I'm still internally debating the believability of the child's behavior, but nothing should surprise me when it comes to people.
I would recommend this book to anyone… the publisher's description doesn't do it credit.
Final Totals for 2005!!!
Book count: 76
Pages in book: 400
Page count: 27,759
15,000 page goal reached 6/14/05!
50 book goal reached 7/19/05!