2006: #70 – Killing Floor (Lee Child)
Book #70 was Killing Floor, by Lee Child.
This was August's book in the book club I'm in. It was very good. The main character was unique and interesting, and he kept you interested. Also, while I could feel there was going to be a twist, I didn't quite have it figured out. I like to be surprised. And I've discovered it's the first in a series. I'll be sure to check out the others!
Book count: 70
Pages in book: 359
Page count: 28,537
Words in book: 144,467
Word count: 8,437,332
1,000,000 words surpassed — 2/2/06
2,000,000 words surpassed — 2/14/06
10,000 pages surpassed — 3/10/06
3,000,000 words surpassed — 3/16/06
4,000,000 words surpassed — 4/3/06
5,000,000 words surpassed — 5/30/06
50 books surpassed — 6/12/06
20,000 pages surpassed — 6/29/06
6,000,000 words surpassed — 6/29/06
7,000,000 words surpassed — 7/21/06
8,000,000 words surpassed — 8/18/06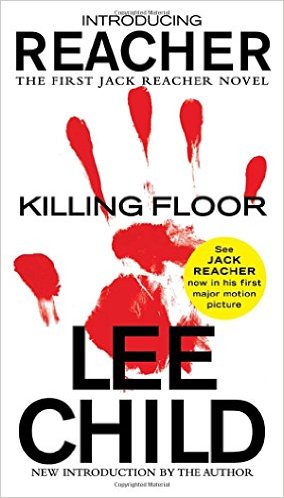 Killing Floor
Jack Reacher #01
Mystery Fiction
Jove Publications
October 30, 2012
536

From its chilling opening page, you know all is not well in Margrave, Georgia. The sleepy, forgotten town hasn't seen a crime in decades, but within the span of three days it witnesses events that leave everyone stunned. An unidentified man is found beaten and shot to death on a lonely country road. The police chief and his wife are butchered on a quiet Sunday morning. Then a bank executive disappears from his home, leaving his keys on the table and his wife frozen with fear. The easiest suspect is Jack Reacher - an outsider, a man just passing through. But Reacher is not just any drifter. He is a tough ex-military policeman, trained to think fast and act faster. He has lived with and hunted the worst: the hard men of the American military gone bad. When authorities learn the first victim was someone from Reacher's past, and he cannot convince them of his innocence, his patient self-defense becomes a raging crusade of revenge. With two cops who believe in him - a thoughtful black detective and a woman named Roscoe - he closes in on a ruthless conspiracy hiding behind Margrave's rural charm. But closing in on him is a team of killers so careful and efficient they are almost invisible. Step by step, the two teams circle - waiting to see which will be the first to walk onto the killing floor.