2008: #87 – The Mysterious Affair at Styles (Agatha Christie)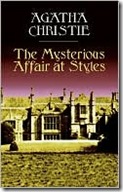 Book #87 was The Mysterious Affair at Styles, the first Hercule Poirot novel by Agatha Christie. The back of the book reads:
In this mesmerizing classic of detective fiction by world-renowned mystery author Agatha Christie, the brilliant Belgian detective Hercule Poirot makes his unforgettable–and legendary–debut.

Who poisoned the wealthy Emily Inglethorpe, and how did the murderer penetrate and escape from her locked bedroom? Suspects abound in the quaint village of Styles St. Mary, just outside Essex. Among those basking in the shadow of doubt are the heiress's fawning new husband, her two aimless stepsons, her volatile housekeeper, and a pretty nurse who works in a hospital dispensary. And though the identity of the culprit will prove as shocking as the crime, nothing gets past the calm logic and cool head of Hercule Poirot.
Another book that I can't really review because really? What can you say about a master like Christie? I think what I like best about Poirot is not just that so much of what he detects is based on observation, but that he has a real soft spot for love. Someday, I will make it through all of these!
Page count: 224 | Word count: 55,996
2007: Carolina Moon (Nora Roberts)
2006: 44 Cranberry Point (Debbie Macomber)