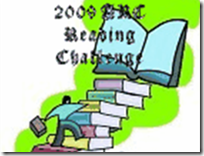 The next (I'm not even going to pretend it'll be the last) challenge I'm signing up for is the 2009 ARC Reading Challenge, hosted by Teddy Rose. The guidelines are:
List all of the ARC's that you have to read right now.  Then throughout the year, you must continue updating that list as you receive more ARC's.  (This is important). You should also strike out the ones that you finish.
There are two options:

All of us who have or will have more than 12 ARC's must read and review 12.
All of us who have or will have less than 12 ARC's must read all of the ARC's we have.  Note, that if you have 11 ARC's and then receive a 12th one you will be bumped up to catagory a.

You don't have to make a list of which ARC's you plan to read, but you can if you want.
Crossovers with other challenges are allowed and Audio-books are allowed as long as they are ARC's.
Read the books and review them on your blog. If you don't have a blog, you can post your review on sites like Powells, Amazon, Barnes and Noble, etc. Leave a comment on this post with a link to each of your reviews.
Here's a list of my ARCS (and review books) as of 4/08/09 (last updated 6/2/09):
Kopek the Destroyer – Phil Owens
The Brass Verdict – Michael Connelly
Upbound – Peter Hassebroek
College Girl – Patricia Weitz
The Dying Game – Beverly Barton
Jar City – Arnaldur Indridason
Hotel on the Corner of Bitter and Sweet – Jamie Ford
The Heretic Queen – Michelle Moran
Stalked – Brian Freeman
Silence of the Grave – Arnaldur Indridason
The Kiss Murder – Mehmet Murat Somer
Voices – Arnaldur Indridason
Playing Dead – Allison Brennan
The Glister – John Burnside
The Chemist – Janson Mancheski
The Lost Hours – Karen White
Mixed Blood – Roger Smith
Drood – Dan Simmons
Amberville – Tim Davys
Darling Jim – Christian Moerk
Two Brothers: One North, One South – David H. Jones
First Family – David Baldacci
Lucky Girl – Mei-Ling Hopgood
Firefly Lane – Kristin Hannah
April & Oliver – Tess Callahan
The Mating Rituals of the North American WASP – Lauren Lipton
Dark Places – Gillian Flynn