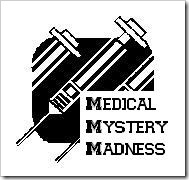 The 2010 Medical Mystery Madness Challenge is hosted by the Twiga Blog. Here are the guidelines:
Challenge begins January 1st thru December 31, 2010.
Read at least 6 medical mysteries.
You can list them out ahead of time or list them as you go along.
Books can be used for cross-challenges and you can change your list at any time.
To sign up, comment on the post.
Sign up is at The Twiga Blog! My list will be below: