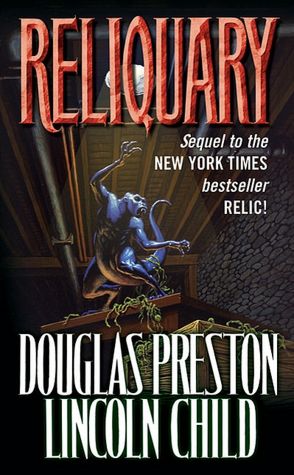 Title: Reliquary
Author: Douglas Preston &  Lincoln Child
Series: Pendergast #02
Format: Kindle
Pages:  480 (2012 total – 5,449)
Word Count: 130,431 (2012 total – 1,505,414)
Release Date: July 15, 1998
Publisher: Tor Books
Categories: science fiction, thriller
Source:  personal copy
Rating: 3 out of 5
Back of the book:
Hidden deep beneath Manhattan lies a warren of tunnels, sewers, and galleries, mostly forgotten by those who walk the streets above. There lies the ultimate secret of the Museum Beat. When two grotesquely deformed skeletons are found deep in the mud off the Manhattan shoreline, museum curator Margo Green is called in to aid the investigation. Margo must once again team up with police lieutenant D'Agosta and FBI agent Pendergast, as well as the brilliant Dr. Frock, to try and solve the puzzle. The trail soon leads deep underground, where they will face the awakening of a slumbering nightmare.
My thoughts:
I thought this was on par with the first book, Relic, and even a bit better in parts. There's a lot here about the New York Underground, which is a much more interesting location than the Museum. The cast of characters is much the same, including Lieutenant D'Agosta and Agent Pendergast, but there are some colorful additions, such as Mephisto, the underground leader. I even felt like I came out of this book with a better understanding of the first one. Overall, this was enjoyable and I suspect I'll read more in the series.
Available from: Amazon | Barnes & Noble | IndieBound | WorldCat
Other reviews:
Past reviews:
2011: The Likeness (Tana French)
2010: The Seventh Commandment (Lawrence Sanders)
2009: Dead to the World (Charlaine Harris)
2008: Living Dead in Dallas (Charlaine Harris)
2007: A Death in Belmont (Sebastian Junger)
2006: A Long Way Down (Nick Hornby)
2005: The Bastard (John Jakes)