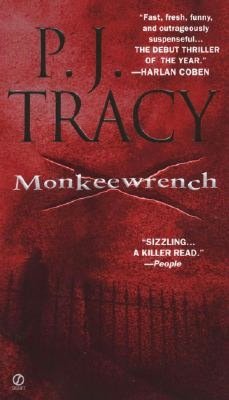 Title: Monkeewrench
Author: P.J. Tracy
Series: Monkeewrench #01
Format: Kindle
Pages:  432
Release Date: April 5, 2004
Publisher: Signet
Source: personal copy

Rating:





People are dying for the new computer game by the software company Monkeewrench. Literally. With Serial Killer Detective out in limited release, the real-life murders of a jogger and a young woman have already mimicked the first two scenarios in the game.

But Grace McBride and her eccentric Monkeewrench partners are caught in a vise. If they tell the Minneapolis police of the link between their game and the murders, they'll shine a spotlight on the past they thought they had erased-and the horror they thought they'd left behind. If they don't, eighteen more people will die…
My thoughts:
I thought this was a good first book in a series. The Monkeewrench group is an interesting mix of characters, forever joined by tragedy. Their lifestyle may be a bit of an over-reaction, but it tells you a lot about them. And for once, the advanced technology used in the book doesn't seem like too far of a stretch. The killer was well-concealed, so I enjoyed the reveal. This is a series I'll definitely continue.
Available from: Amazon | Barnes & Noble | IndieBound | WorldCat
Other reviews:
"Though this was a pretty standard mystery, I really enjoyed the 'eccentric Monkeewrench partners' and their deep dark pasts." — On a Book Bender
"First off, I really like good cyberthrillers where computer software or technology plays a lead role in the story.  For that, the book gets high marks." — Duffbert's Random Musings