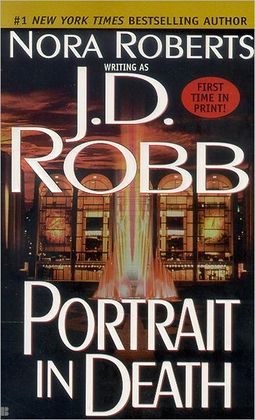 Title: Portrait in Death
Author: J.D. Robb
Series: In Death #16
Format: Kindle
Pages:  368
Release Date: March 2, 2003
Publisher: Berkley
Source: personal copy

Rating:





After a tip from a reporter, Eve Dallas finds the body of a young woman in a Delancey street dumpster. Just hours before, the news station had mysteriously received a portfolio of professional portraits of the woman. The photos seemed to be nothing out of the ordinary for any pretty young woman starting a modeling career. Except that she wasn't a model. And that these photos were taken after she had been murdered.

Now Dallas is on the trail of a killer who's a perfectionist and an artist. He carefully observes and records his victim's every move. And he has a mission: to own every beautiful young woman's innocence, to capture her youth and vitality—in one fateful shot…
My thoughts:
This is a series that I'm rarely disappointed in. It's great for when I want a quick, satisfying read. Eve and Roarke actually don't spend a lot of time together in this one, as Roarke is struggling with some new information he's discovered about his mother. But the rest of our favorites are nearby — Peabody, Mavis, and even Summerset. The mystery was interesting, and keeps you guessing about whodunnit.
Available from: Amazon | Barnes & Noble | IndieBound | WorldCat
Other reviews:
"This book was excellent. I loved all the imagery Robb used to show the contrasts of the photography- the gray areas, the light and shadows." — The Windy Pages
"If you've never picked up the In Death series before, I'd tell you that you're certainly missing out! There is a little bit of everything: romance, crime, sex, emotional connections, great characters, suspense, murder." — Nerdy Book Reviews
"Not only was the crime interesting, a guy that poses his victims in photographs at their death, but all the continued development of the cast of characters." — Dee's Book Blog