2019: #7 – American Vampire (Jennifer Armintrout)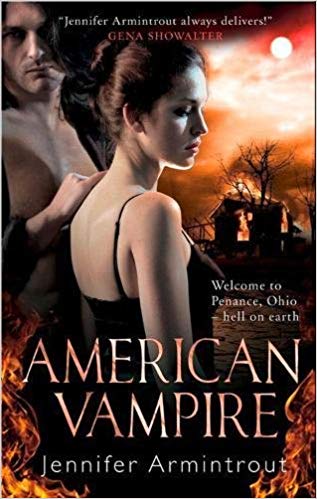 American Vampire

by Jennifer Armintrout
Published by MIRA on September 8, 2016
Genres: urban fantasy
Pages: 336



Buried in the Heartland is a town that no one enters or leaves. Graf McDonald somehow becomes its first visitor in more than five years…and he was only looking for a good party. Unfortunately, Penance, Ohio, is not that place. And after having been isolated for so long, they do not like strangers at all.

Jessa's the only one to even remotely trust him, and she's desperate for the kind of protection that only a vampire like Graf can provide. Supplies are low, the locals are ornery for a sacrifice and there's a monster more powerful than Graf lurking in the woods. New men are hard to come by in this lonesome town, and this handsome stranger might be Jessa's only hope for salvation. Even if she has to die first…
I thought this was a decent urban fantasy one-off that wasn't limited to one "species". Graf is a vampire who is driving through America's heartland when he stumbles into a town that he can't quite get out of. And to make things more interesting, there's a monster wandering around, eating people.
This monster seems to be especially attracted to one woman, Jessa, who has been left to live alone in her family's farmhouse. And, it turns out, Graf is also attracted to her. After he saves her life, he guilts her into letting him sleep (or, hide from the sun) in her basement. Together, they realize that things are escalating and their choices are to either find a way out of town or a way to kill the monster.
I think this is the first Jessica Armintrout I've read, and I'm sure I'll read more. It was a nice break from some of the heavier books I've been reading.
Other reviews:
"American Vampire is a mystery, a romance, a comedy, a paranormal horror…all of the things I love in a book." — Diary of a Bibliophile
"I'll admit that the book was a little slow to start, but once you're hooked, you're hooked." — Book Goggles
"If you don't think too hard about a few loopholes in the plot, you'll find a very fresh and twisted approach to the traditional vampire tale." — Fang-tastic Fiction