2008: Challenges – 2009 Audiobook Challenge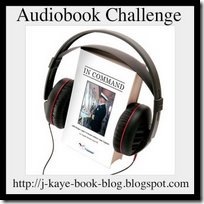 I swear, J.Kaye is doing this to me on purpose!  She has started yet another challenge that is tailor-made for me and therefore, I must join.
This one is the 2009 Audiobook Challenge, and the guidelines are:
You can join anytime as long as you don't start listening to your books prior to 2009.
This challenge is for 2009 only. The last day to have all your books read is December 31, 2009.
You can join anytime between now and December 31, 2009.
When you sign up under Mr. Linky, list the direct link to your post where your library books will be listed. If you list just your blog's URL, it will be removed. If you don't have a blog, leave the URL blank.
Our goal is to listen to 12 audiobooks in 2009. No need to list your books now. You can do so as you go.
My books will be listed below!
On a side note, I promise I'll actually finish a book and review it soon! It seems like a while since I last finished one.  Unsurprisingly, adding a 3rd book to my routine has slowed me down!
last updated: 3/22/09