2021: #78 – The Priory of the Orange Tree (Samantha Shannon)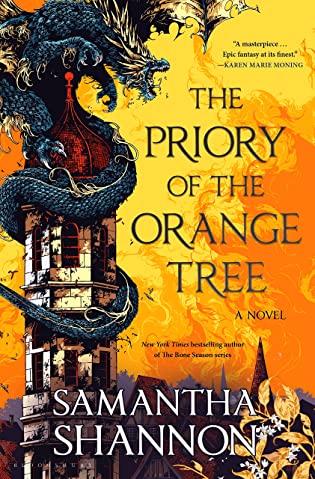 The Priory of the Orange Tree
by
Samantha Shannon
Published by
Bloomsbury Publishing
on February 26, 2019
Genres:
fantasy
,
high/epic fantasy
Pages:
827


A world divided. A queendom without an heir. An ancient enemy awakens.

The House of Berethnet has ruled Inys for a thousand years. Still unwed, Queen Sabran the Ninth must conceive a daughter to protect her realm from destruction—but assassins are getting closer to her door.

Ead Duryan is an outsider at court. Though she has risen to the position of lady-in-waiting, she is loyal to a hidden society of mages. Ead keeps a watchful eye on Sabran, secretly protecting her with forbidden magic.

Across the dark sea, Tané has trained all her life to be a dragonrider, but is forced to make a choice that could see her life unravel.

Meanwhile, the divided East and West refuse to parley, and forces of chaos are rising from their sleep.
This is the epic tale of a world trying to stop the rise of the Wyrms (think: fire-breathing dragons) after 1000 years of banishment below the seas. It is told through the eyes of several characters — a lord doomed by a childhood friendship, a court outsider with a secret, a dragon-rider with a rebellious streak, a banished alchemist determined to return home — and from different corners of the world.
The book is a slow start, because there is a lot of world building in the first several chapters. I personally found it helpful to refer to the map, because for a while I didn't realize that the people that were focused on were in different regions of the world. But all of that world building pays off in the end as the story is woven together and our narrators cross each others paths.
A strength of this novel is the complexity of its female characters. Some are strong, some feel trapped, some are leaders, some are traitors. They are witches and queens, pirates and dragon-riders, spies and priestesses.
This particular book is a standalone, but I would definitely read more from this author!
I read this for the following reading challenges:
Other reviews:
"Like all epic fantasies, it's not an easy read; it takes some legwork to figure out who everyone is and what the different countries believe and the conflicts between them, but once you have that under you it's a very rewarding read." – A Blog of Books and Musicals
"I know many people have this on their list. Well get to it already! It has dragons, magic, romance, fight scenes, warriors, intrigue, mystery, and Lore. This story has heart. What are you waiting for Slackers!" — The Book in Hand
"The mythology and faith system within The Priory of the Orange Tree was fascinating to watch, especially with the twists and turns that they each bring into the story and the politics for each of the countries." — The Book Blog Life