2021: #79 – Fall of Giants (Ken Follett)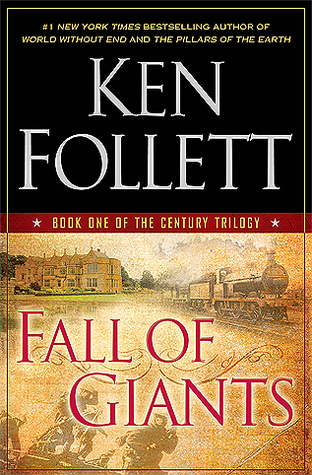 Fall of Giants
by
Ken Follett
Series:
Century Trilogy #01
Published by
Viking
on September 28, 2010
Genres:
historical fiction
,
hf - multi-period saga
Pages:
985


Also by this author:
Jackdaws
,
Hornet Flight
,
Whiteout
This is an epic of love, hatred, war and revolution. This is a huge novel that follows five families through the world-shaking dramas of the First World War, the Russian Revolution, and the struggle for votes for women.

It is 1911. The Coronation Day of King George V. The Williams, a Welsh coal-mining family is linked by romance and enmity to the Fitzherberts, aristocratic coal-mine owners. Lady Maud Fitzherbert falls in love with Walter von Ulrich, a spy at the German Embassy in London. Their destiny is entangled with that of an ambitious young aide to U.S. President Woodrow Wilson and to two orphaned Russian brothers, whose plans to emigrate to America fall foul of war, conscription and revolution. In a plot of unfolding drama and intriguing complexity, "Fall Of Giants" moves seamlessly from Washington to St Petersburg, from the dirt and danger of a coal mine to the glittering chandeliers of a palace, from the corridors of power to the bedrooms of the mighty.
No one writes a historical saga quite like Ken Follett. Is it entirely historically accurate? Probably not. Is it fine literature? No. Did it keep me entertained for 30 hours? It did! For the most part. There was a fair amount of political stuff at the end that I found myself tuning out on, but I'm always interested in the stories of the people. I particularly appreciated the depiction of the Bolshevik Revolution, because that is a piece of history that I'm not very familiar with. I'm sure I'll be reading the final 2 books in the trilogy.
I read this for the following reading challenges:
Other reviews:
"If you're looking for love, you'll find that in here. If you're looking for a political discussion and questions of class, you'll find it here. It really is a saga." — Read with Amie
"The development of the book was also really well done and I loved the characters, the plot, and the historical topic! So good!" — HookedtoBooks
"After finishing the novel, I realized that I learned more about WWI, the Russian Revolution, English politics in the 20th century, the origin of the League of Nations, communism, and Leninism than I had in the last 25 years, within a 30 hour novel." — Eat Cook Read