2021: #81 – Spoiler Alert (Olivia Dade)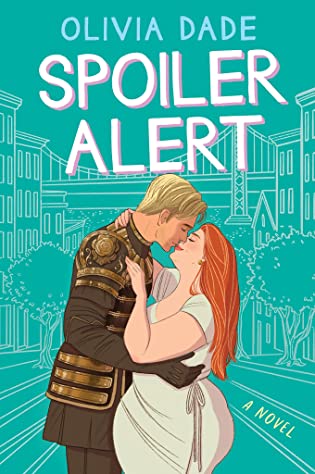 Spoiler Alert
by
Olivia Dade
Series:
Spoiler Alert #01
Published by
Avon
on October 6, 2020
Genres:
romance
,
contemporary romance
Pages:
416


Olivia Dade bursts onto the scene in this delightfully fun romantic comedy set in the world of fanfiction, in which a devoted fan goes on an unexpected date with her celebrity crush, who's secretly posting fanfiction of his own.

Marcus Caster-Rupp has a secret. While the world knows him as Aeneas, the star of the biggest show on TV, Gods of the Gates, he's known to fanfiction readers as Book!AeneasWouldNever, an anonymous and popular poster. Marcus is able to get out his own frustrations with his character through his stories, especially the ones that feature the internet's favorite couple to ship, Aeneas and Lavinia. But if anyone ever found out about his online persona, he'd be fired. Immediately.

April Whittier has secrets of her own. A hardcore Lavinia fan, she's hidden her fanfiction and cosplay hobby from her "real life" for years—but not anymore. When she decides to post her latest Lavinia creation on Twitter, her photo goes viral. Trolls and supporters alike are commenting on her plus-size take, but when Marcus, one half of her OTP, sees her pic and asks her out on a date to spite her critics, she realizes life is really stranger than fanfiction.

Even though their first date is a disaster, Marcus quickly realizes that he wants much more from April than a one-time publicity stunt. And when he discovers she's actually Unapologetic Lavinia Stan, his closest fandom friend, he has one more huge secret to hide from her.

With love and Marcus's career on the line, can the two of them stop hiding once and for all, or will a match made in fandom end up prematurely cancelled?
I really liked the heart of this book. I loved April and her unapologetic geekiness, and I liked what Dade has to say about body positivity, and that she wrote a male protagonist that walks the talk. What I wasn't expecting was just how detailed into the fanfiction subculture this was going to go. It's one of the few times I've started a book and thought "oooh, I might be too old for this". Fanfiction as a concept was certainly around when I was in college, but not with all these abbreviations and dedicated websites. I eventually figured out what everything meant, but it took time. And while sometimes I enjoyed the little fanfiction pieces between chapters, other times I felt like they pulled me out of the story and didn't really tell me anything new.

I definitely will read more from Olivia Dade, just maybe not if it's about fanfiction.
I read this for the following reading challenges:
Other reviews:
"But I will say, the cover does not do the book justice because I really enjoyed Spoiler Alert! It was a really cute book and I loved the fandom aspect, the romance, body positivity, women in science, family complications, and character development. Olivia Dade really wrote a story that tied everything seamlessly and every plot made sense." — Floweringpages
"This was a fun read, but it did take me a bit to get into it. That tends to happen with fandom/fanfic type books. But the relationship with April and Marcus kept me wanting to read." — Confessions of a YA Reader
"Overall I really enjoyed Spoiler Alert! I loved Marcus and April together. I enjoyed seeing how their relationship grew over time and how they overcame their secrets. I loved the fanfic aspect of the book. I read a lot of fanfic myself so it was fun to see it play out in a book as well. If you are a fan of romantic comedies, I highly recommend this one." — Mom with a Reading Problem