2008: Challenges – The 2009 100+ Reading Challenge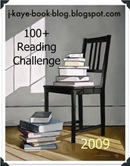 J. Kaye is once again hosting the 100+ Reading Challenge next year (click the link to sign up).  I don't think I'm going to meet this year's challenge goals (137 books), but I think I will have made a valiant effort! I will surpass 100 books, at any rate. My exact goal for next year will be determined on December 31st, as my goal each year is to read at least one more book than the year before.  I'll keep track of my list here!
Update: My goal for 2009 is 108 books!
last updated: 10/22/09
Skin Tight – Carl Hiaasen
Lord John and the Brotherhood of the Blade – Diana Gabaldon
Kopek the Destroyer – Phil Owens
Five on a Treasure Island – Enid Blyton
Summer – Edith Wharton
Plum Spooky – Janet Evanovich
The Stupidest Angel – Christopher Moore
Amelia Peabody's Egypt – Elizabeth Peters
Claus, A Christmas Incarnation – C. John Coombes
The Brass Verdict – Michael Connelly
All Night Long – Jayne Ann Krentz
Upbound – Peter Hassebroek
A Fistful of Charms – Kim Harrison
College Girl – Patricia Weitz
Full Speed – Janet Evanovich
Kiss of the Night – Sherrilyn Kenyon
China Lake – Meg Gardiner
Undead and Unemployed – MaryJanice Davidson
The Prey – Allison Brennan
Summer Knight – Jim Butcher
Dead to the World – Charlaine Harris
An Ice Cold Grave – Charlaine Harris
The Beautiful Things That Heaven Bears – Dinaw Mengestu
The Girl with the Dragon Tattoo – Stieg Larsson
Soul Catcher – Michael C. White
Vampire Academy – Richelle Mead
In the Woods – Tana French
Can You Keep a Secret? – Sophie Kinsella
The Chemist – Janson Mancheski
Breath of Scandal – Sandra Brown
For a Few Demons More – Kim Harrison
The Kiss Murder – Mehmet Murat Somer
The Uncommon Reader – Alan Bennett
The Hunger Games – Suzanne Collins
Matilda – Roald Dahl
Whiskey Sour – J.A. Konrath
The Masque of the Black Tulip – Lauren Willig
The Lost Hours – Karen White
Undead and Unappreciated – MaryJanice Davidson
Drop Shot – Harlan Coben
Tribute – Nora Roberts
Full Blast – Janet Evanovich
Fractured – Karin Slaughter
First Family – David Baldacci
Darling Jim – Christian Moerk
Afraid – Jack Kilborn
Bonk – Mary Roach
Dead Girls Are Easy – Terri Garey
Tell No One – Harlan Coben
The BFG – Roald Dahl
Sunny Chandler's Return – Sandra Brown
Tripwire – Lee Child
The Black Tower – Louis Bayard
The Mating Rituals of the North American WASP – Lauren Lipton
Dark Places – Gillian Flynn
Reunion – Therese Fowler
April & Oliver – Tess Callahan
The Secret Life of Prince Charming – Deb Caletti
Breathers – S.G. Browne
City of Thieves – David Benioff
Doomed Queens – Kris Waldherr
Bad Things – Michael Marshall
High Noon – Nora Roberts
Kitty and the Midnight Hour – Carrie Vaughn
I Smile Back – Amy Koppelman
The Accidental Human – Dakota Cassidy
Skin Trade – Laurell K. Hamilton
The Intimate Adventures of a London Call Girl – Belle de Jour
Night Play – Sherrilyn Kenyon
Do Not Deny Me – Jean Thompson
Finger Lickin' Fifteen – Janet Evanovich
Naamah's Kiss – Jacqueline Carey
Fluke – Christopher Moore
Courting Catherine – Nora Roberts
On Writing – Stephen King
Killer Takes All – Erica Spindler
A Man for Amanda – Nora Roberts
Ms. Taken Identity – Dan Begley
Spook – Mary Roach
For the Love of Lilah – Nora Roberts
A Pen Warmed Up in Hell – Mark Twain
Suzanna's Surrender – Nora Roberts
The Girl with the White Flag – Tomiko Higa
Megan's Mate – Nora Roberts
A Secret Rage – Charlaine Harris
Best Intentions – Emily Listfield
Unnatural Exposure – Patricia Cornwell
The Memory Collector – Meg Gardiner
Jar City – Arnaldur Indridason
Engleby – Sebastian Faulks
The Big Steal – Emyl Jenkins
Evil at Heart – Chelsea Cain
Good in Bed – Jennifer Weiner
Rising Tides – Nora Roberts
A Circle of Souls – Preetham Grandhi
Huge – James W. Fuerst
Catching Fire – Suzanne Collins
The Girl Who Played With Fire – Stieg Larsson
Practical Demonkeeping – Christopher Moore
Cleopatra's Daughter – Michelle Moran
Wish You Were Here – Rita Mae Brown
Silence of the Grave – Arnaldur Indridason
Hunter's Moon – C.T. Adams & Cathy Clamp
The Spire – Richard North Patterson
Full Bloom – Janet Evanovich
The Fury – Jason Pinter
Coyote Blue – Christopher Moore
Vixen 03 – Clive Cussler