2012: #19 – False Impression (Jeffrey Archer)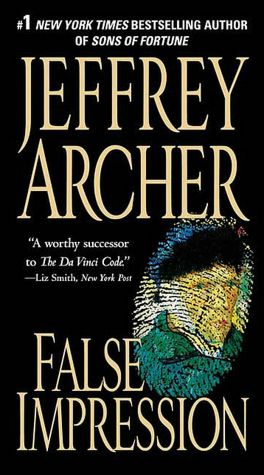 Title: False Impression
Author: Jeffrey Archer
Format: Hardback
Pages: 384 (2012 total – 4,649)
Approx. Word Count: 115,200 (2012 total – 1,278,983)
Release Date: March 07, 2006
Publisher: St. Martin's Press
Categories: suspense
Source: personal copy
Rating: 3.5 out of 5

Back of the book:
Why was an elegant lady BRUTALLY MURDERED the night before 9/11?

Why was a successful New York banker not surprised to receive A WOMAN'S LEFT EAR in the mail?

Why did a young woman with a brilliant career steal an IMPRESSIONIST PAINTING?

Why was an honors graduate working as a temporary secretary after INHERITING A FORTUNE?

Why was a SENIOR FBI AGENT trying to work out the connection between these four apparently innocent individuals?

A breathtaking journey of twists and turns from New York to London, from Bucharest and on to Tokyo ends up in a sleepy English village where the mystery surrounding Van Gogh's last painting will finally be resolved.
My thoughts:
This book was my introduction to Jeffrey Archer's work, and I wasn't quite sure what to expect. I was pleasantly surprised!
I am generally not a fan of books about art, but in this case the painting itself is not quite as important as its journey is. I also was concerned that the 9/11 backdrop was going to be gimmicky, but instead it is used to create an interesting set of problems for the book's characters. The reality of not knowing if someone is alive or dead, the travel difficulties, the loss of assets and records, the lack of communication – they all provided fantastic obstacles for the characters to work around. It made the maneuvering that much more interesting.
That being said, the book's not perfect. Anna's frantic flight to Canada has several problems, not the least of which is a very unlikely encounter with a couple of long-haul truckers. But, as far as a lightweight thriller goes, it kept my attention enough for me to enjoy it and enough for me to plan to read some of Archer's earlier novels.
Available from: Amazon | Barnes & Noble | IndieBound | WorldCat
Other reviews:
"Although the novel never quite gels into an edge-of-the-seat suspense thriller, it gives a good mystery and world wide chase." — Jandy's Reading Room
"Don't read False impression if you can help it. I am now stuppider for having read it, see?" — AcademyX
"This book was completely forgettable. A mindless work of regurgitated fiction." — The Books We Read
Past reviews:
2011: The Raising (Laura Kasischke)
2010: London Bridges (James Patterson)
2009: Undead and Unemployed (MaryJanice Davidson)
2008: Caught Stealing (Charlie Huston)
2007: Die Trying (Lee Child)
2006: Skinny Dip (Carl Hiaasen)
2005: The Haunting of Hill House (Shirley Jackson)