2006: #63 – Dark Angel (Karen Harper)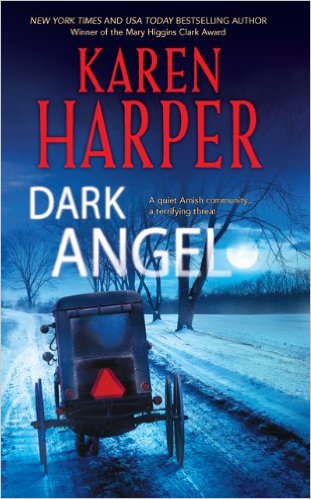 Dark Angel
Maplecreek Amish Trilogy #03
Suspense Fiction
Mira
April 19, 2011
368

A dark secret hides in the heart of Maplecreek's Amish community.One morning Leah Kurtz goes to wake her adopted infant daughter and instantly knows something is terribly wrong. She is convinced that her baby has been switched with another child. Afraid that no one will believe her, Leah turns to an unlikely ally, despite the fact that her Amish community frowns on its members seeking help in the outside world. Dr. Mark Morelli studies the genetic illnesses that plague the Amish, but he has other, private reasons for coming to Maplecreek . . . reasons that may be tied to the mysterious disappearance of Leah's daughter. Together, Leah and Mark must uncover a conspiracy -- before there are deadly consequences.
Book #63 was Dark Angel, by Karen Harper, the 3rd book in the Maplecreek Amish Trilogy.
This was July's book of the month in the club I've joined. I'd read the first, but not the second, in this trilogy but I don't really feel like I missed much. The book was quite good. I would read more with these characters. I'd like to know how things turned out when life returned to normal.
Book count: 63
Pages in book: 400
Page count: 25,351
Words in book: 86,872
Word count: 7,250,579