2006: #64 – Narcissus in Chains (Laurell K. Hamilton)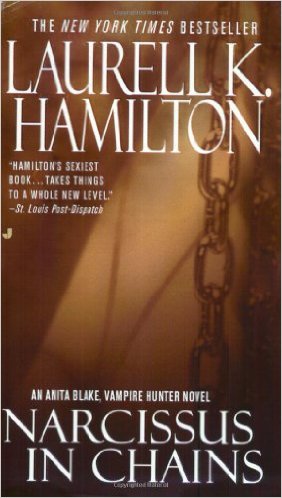 Narcissus in Chains
Anita Blake #10
Urban Fantasy
Berkley Publishing Group
2001
424

With the highly acclaimed Obsidian Butterfly, Laurell K. Hamilton's vampire hunter, Anita Blake, came into her own. She survived a supernatural onslaught unlike any she had ever faced before – and she did it without the two men in her life.
Now, six months have passed since Anita has seen either Jean-Claude or Richard. Six months of celibacy. Six months of indecision. Six months of danger. For her body carries the marks of both vampire and werewolf, and until the triumvirate is consummated, all three remain vulnerable.
But when a kidnapper targets innocents that Anita has sworn to protect, she needs all the help she can get. In an earth-shattering union, Anita, Jean-Claude, and Richard merge the marks – and melt into one another. Suddenly, Anita can harness both their powers. She can feel their hearts…hear their thoughts… know their hungers…
Nothing can save Anita from the twist of fate that draws her ever closer to the brink of humanity – to finally surrender to the bloodlust, the beast, and the desire transforming her body and consuming her soul…

Book #64 was Narcissus in Chains, the 10th book in Laurell K. Hamilton's Anita Blake series. The back of the book reads:
FINALLY. Do you know how long I've been trying to get ahold of this book without actually having to go out and buy it? (Okay, so Scott technically bought it) This was the one hole I had in the series, and it's probably the book most important to this later portion, because it has the first appearance of the ardeur. I still have mixed feelings about the direction of the series, yet I read them like I'm starving. Apparently she's doing something right!
Book count: 64
Pages in book: 656
Page count: 26,007
Words in book: 218,454
Word count: 7,469,033