2008: #56 – How I Live Now (Meg Rosoff)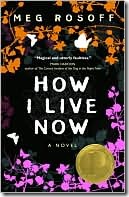 Book #56 was How I Live Now by Meg Rosoff.  The back of the book reads:
"Every war has turning points and every person too."

Fifteen-year-old Daisy is sent from Manhattan to England to visit her aunt and cousins she's never met: three boys near her age, and their little sister. Her aunt goes away on business soon after Daisy arrives. The next day bombs go off as London is attacked and occupied by an unnamed enemy.

As power fails, and systems fail, the farm becomes more isolated. Despite the war, it's a kind of Eden, with no adults in charge and no rules, a place where Daisy's uncanny bond with her cousins grows into something rare and extraordinary. But the war is everywhere, and Daisy and her cousins must lead each other into a world that is unknown in the scariest, most elemental way.

A riveting and astonishing story.
This YA story of children left to fend for themselves after the outbreak of a war has a distinct post-apocalyptic feel to it. I think this is mostly due to the rural countryside setting, lack of adults, and the "faceless" enemy. You never find out what really happens here other than The Occupation, but that's secondary to the story of Daisy and her cousins and their struggle to survive.
Daisy is the narrator here, and the writing style is true to the uncertain voice of a teenager — the slightly rambling, run-on sentences and narrow worldview are spot on. I liked Daisy, even though she starts out pretty selfish and more than slightly screwed-up. By the end of the story she is a completely different person, but the world is also a completely different place.
I think this story had the potential to be too much — too horrific, too gory, too heroic, too sad, too uncomfortable, too unbelievable. Instead, it was just right.
Page count: 194 | Word count: 40,739
2007: Basket Case (Carl Hiaasen)
2006: Fall on Your Knees (Ann-Marie MacDonald)
2005: Hard Eight (Janet Evanovich)