2009: #98 – Catching Fire (Suzanne Collins)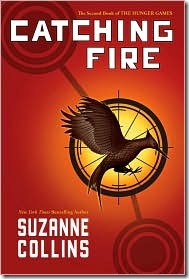 Book #98 was Catching Fire, the second book in Suzanne Collins' Hunger Games trilogy.  The back of the book reads:
Against all odds, Katniss Everdeen has won the annual Hunger Games with fellow district tribute Peeta Mellark. But it was a victory won by defiance of the Capitol and their harsh rules. Katniss and Peeta should be happy. After all, they have just won for themselves and their families a life of safety and plenty. But there are rumors of rebellion among the subjects, and Katniss and Peeta, to their horror, are the faces of that rebellion. The Capitol is angry. The Capitol wants revenge.
This was a highly anticipated book, and it definitely did not disappoint. I actually pre-ordered this, something I haven't done since Harry Potter #5. The story picks up almost a year after the Hunger Games ended, with Katniss and Peeta now living in the winner's village and trying to recover some semblance of a normal life. Katniss still isn't sure how to deal with Peeta and Gale and definitely isn't sure how she truly feels about either of them. And worse of all, it will soon be time for another Games, and no one knows what the Capitol has planned for the Quarter Quell, the 75th anniversary of the games. Katniss knows she is still on the President's naughty list, and there's no way she can feel safe.
I refuse to post any spoilers, but I assure you that it's not what you expect. This book is a lot more political, as we learn more about the districts and how life truly is throughout Panem.  There's not quite as much suspense or heavy violence here as in The Hunger Games, but the ending will leave you breathless and dying for the next book. 
Other reviews:
CATCHING FIRE by Suzanne Collins – REVIEW « Karin's Book Nook
Devourer of Books » Catching Fire – *spoiler free* Book Review
Wands and Worlds: Book Review: Catching Fire
Review: Catching Fire by Suzanne Collins
Persnickety Snark: Review – Catching Fire / Suzanne Collins
Page count: 400 | Approximate word count: 80,000
2008: Any Given Doomsday (Lori Handeland)
2007: A Game of Thrones (George R.R. Martin)
2006: A Dangerous Fortune (Ken Follett)
Used in these Challenges: 100+ Reading Challenge 2009; 2nds Challenge; Read Your Own Books Challenge; Countdown Challenge 2010;