2008: #64 – A Living Nightmare (Darren Shan)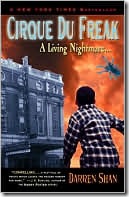 Book #64 was A Living Nightmare, the first book in the Cirque du Freak series by Darren Shan. The back of the book reads:
Darren Shan is just an ordinary schoolboy who enjoys hanging out with his three best friends. Then one day they stumble across as invitation to visit the Cirque du Freak, a mysterious freak show. Only two tickets are available, so they draw straws to see who will go. As if by destiny, Darren wins one, and what follows is his horrifying descent into the dark and bloody world of vampires. This is Darren's story.
This is a YA story, so it's not going to be the vampire horror story you expect. There's no vampire lust and limited blood here. Darren is a young boy who does young boy things… he plays soccer at lunch-time, he gets into trouble with his best friend, he covets a pet more than anything else… Until he has to make a more adult decision. His life, or his friend's? I thought it was a good story (despite being a little heavy with exclamation points), and I'm going to read at least the next couple of books in the series to see where it goes.
Page count: 257 | Word count: 48,548
2007: The End (Lemony Snicket)
2006: Narcissus in Chains (Laurell K. Hamilton)
2005: Nora, Nora (Anne Rivers Siddons)