2008: The Sunday Salon – Sunday #2

I actually had a fairly productive reading week! Or at least, I have since Thursday.
Thursday I finished The Plot Against America, partially thanks to alternating between being at a dead stop and crawling on the interstate for about half an hour. That left me with just enough to finish before I went to bed that night. I have some mixed feelings about the book, because I really feel like Roth copped out at the end. I started Key of Light at lunchtime on Friday, and finished that off in a leisurely fashion on my couch this morning. Next I have picked up A Living Nightmare, the first Cirque du Freak book by Darren Shan. It's a YA book with pretty large print, so if I put some real effort into it I could finish it tonight. However, I'll probably play online poker and watch TV instead!
On audio, I finished Full Tilt on Monday. I then started what I thought was an abridged version of In A Sunburned Country by Bill Bryson, but it was so abridged that it didn't seem to have an ending. It was so abridged, I couldn't bring myself to count it as a read. Also this week, my FM transmitter died! That really put a crimp in my audiobook listening! I've ordered a new one and have one that I'm going to return that I'm using in the meantime. I finally was able to start The Neon Rain by James Lee Burke, which I'm really enjoying. I don't know why I avoided this series for so long.
Lo and behold, I joined yet another challenge this week: The 888 Challenge. I don't know what I am thinking.
I didn't think I was going to have any new books to talk about this week, but then we walked over to Books-A-Million after dinner on Friday. I came out with two books from the bargain table: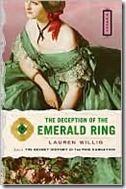 I'm really excited about this series, which I just discovered recently. I'm so excited about it that I'll probably start reading The Secret History of the Pink Carnation as my next book, even though it's not on any of my summer reading lists!
I will likely be absent from the Sunday Salon next Sunday, because we will be on our way back from Baltimore, so have a happy two weeks of reading!