2008: #66 – Homeport (Nora Roberts)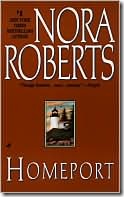 Book #66 was Homeport by Nora Roberts. The back of the book reads:
After an assault at her family home in Maine, Dr. Miranda Jones is determined to put the experience behind her. Distraction comes when she is summoned to Italy to verify the authenticity of a Renaissance bronze of a Medici courtesan known as The Dark Lady. But when the job nearly destroys her reputation, Miranda has no one to turn to except Ryan Boldari, a seductive art thief who offers her both unnerving suspicion and intoxicating passion. And when it becomes clear that the incident in Maine was not a simple mugging, Miranda is forced to rely on herself—and Ryan— during a journey home that is filled with deception, treachery, and danger.
This was your run-of-the-mill Nora Roberts romantic suspense. The science behind the authentication of the art made for an interesting backdrop. The one thing that fell flat for me was the use of Maine as the setting. Instead of embracing the things that makes Maine what it is… the down-homeness, the comfort, the simpleness… she creates a cosmopolitan setting that doesn't exist in Maine, even in the largest city. As a Maine native, that just rubbed me the wrong way. Otherwise, everything you want in a Nora Roberts book is there — the chemistry between the lead characters, the danger, the intrigue, and the happy ending.
Page count: 432 | Approximate word count: 121,512
2007: The Double Bind (Chris Bohjalian)
2006: Plain Truth (Jodi Picoult)
2005: Bridge of Birds (Barry Hughart)