2009: #111 – Dead as a Doornail (Charlaine Harris)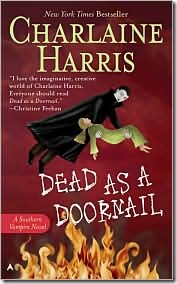 Book #111 was Dead as a Doornail, the fifth book in Charlaine Harris' Sookie Stackhouse series.  The back of the book reads:
When Sookie's brother Jason's eyes start to change, she knows he's about to turn into a were-panther for the first time. But her concern becomes cold fear when a sniper sets his deadly sights on the local changeling population-and Jason's new panther brethren suspect he may be the shooter. Now, Sookie has until the next full moon to find out who's behind the attacks, unless the killer decides to find her first.
I liked this one a little more than the last two.  Sookie is getting more independent and sure of herself, and is less willing to let the men in her life walk all over her.  I'm still glad that Bill is on the outs — so shoot me. I did notice that it seems like Sookie has developed a bit of a temper… I don't know if her anger has been ramped up, or if I'm just now noticing it more, but she does an awful lot of yelling and storming out of rooms. I think my enjoyment of the series has been heightened by the HBO show, because now I have great mental pictures of the characters (especially Eric and Sam!). Also, well-read Harris fans will recognize the cameo appearance by Lily Bard.
Other reviews:
Dead As A Doornail (True Blood) by Charlaine Harris : Book Review
Review: Dead As A Doornail, by Charlaine Harris «
eclectic / eccentric: Book Review: Dead as a Doornail
Ulat Buku in the City: Dead as a Doornail
The Eclectic Reader: Dead As A Doornail by Charlaine Harris
Page count: 320 | Word count: 88,296
2007: A Walk in the Woods (Bill Bryson)
2006: Storm Front (Jim Butcher)
Used in these Challenges: Sookie Reading Challenge; Countdown Challenge 2010;