2008: #67 – The Neon Rain (James Lee Burke)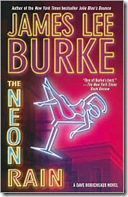 Book #67 was The Neon Rain, the first in the Dave Robicheaux series by James Lee Burke. The back of the book reads:
Detective Dave Robicheaux has fought too many battles: in Vietnam, with killers and hustlers, with police brass, and with the bottle. Lost without his wife's love, Robicheaux's haunted soul mirrors the intensity and dusky mystery of New Orleans' French Quarter — the place he calls home, and the place that nearly destroys him when he becomes involved in the case of a young prostitute whose body is found in a bayou. Thrust into the world of drug lords and arms smugglers, Robicheaux must face down a subterranean criminal world and come to terms with his own bruised heart in order to survive.
I liked Dave Robicheaux. He doesn't mess around. When he hears that he may be on someone's hit list, he doesn't skulk and sneak around, trying to find out what's going on. Not Dave! He goes and asks the guy directly. He has a lot to deal with in this book… a dead girl, mobsters, drug and gun runners, kidnapping, a questionable partner, a new girlfriend, his own demons… and in the end he does pretty well, but probably not in the way you would expect. Dave may be flawed, but he's alright with me.
Page count: 275 | Approximate word count: 83,378
2007: Portrait of a Killer (Patricia Cornwell)
2006: The Grim Grotto (Lemony Snicket)
2005: Hell at the Breech (Tom Franklin)