2008: #69 – The Good, the Bad, and the Undead (Kim Harrison)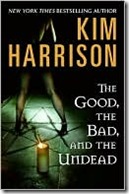 Book #69 was The Good, the Bad, and the Undead, the second book in Kim Harrison's Rachel Morgan series. The back of the book reads:
It's a tough life for witch Rachel Morgan, sexy, independent bounty hunter, prowling the darkest shadows of downtown Cincinnati for criminal creatures of the night.

She can handle the leather-clad vamps and even tangle with a cunning demon or two. But a serial killer who feeds on the experts in the most dangerous kind of black magic is definitely pressing the limits.

Confronting an ancient, implacable evil is more than just child's play — and this time, Rachel will be lucky to escape with her very soul.
Man oh man, I like this series. I really hated for this one to end! I like Rachel, even if she tends to be bull-headed and downright stupid sometimes. I can relate to some of her indecision and refusal to see what's right in front of her. The supporting cast of Ivy, Jenks, Nick, and even Trent Kalamack are back in this one, and this is one of the only series I've read lately that really has a continuing storyline through the books. There's a lot of danger and mayhem, and a little more sex in this one than in the last. I can't wait to see what's in store for Rachel in the next books. The return of Detective Glenn, perhaps? This may not be high quality literature, but it's fast and furious and fun, and a lot of the time that's all I need.
Page count: 453 | Word count: 145,818
2007: Death on the Nile (Agatha Christie)
2006: The Deep (Peter Benchley)
2005: Charleston (John Jakes)