2008: #70 – Wed to a Stranger? (Jule McBride)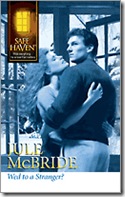 Book #70 was Wed to a Stranger? by Jule McBride. The back of the book reads:
HER HUSBAND HAD VANISHED

He'd left no trace–except his pregnant bride, Fritzi Fitzgerald. A year later, her search for him led her to a remote Alaskan village, and when a man carrying her husband's ID was murdered, she stood accused.

A STRANGER APPEARED

He came from the snow-swept tundra–a swarthy, denim-clad dream man with raven hair and eyes like the coats of white wolves shining in darkness. He claimed he was Fritzi's husband–and alibi.

A STALKER WAS WATCHING

Sharing a snowed-in cabin with her closemouthed rescuer, Fritzi sensed he was connected to her missing spouse. But when the lights went out and eyes followed her in the dark–would Nathan Lafarge protect her and her son?
I can't, in good conscience, recommend this book to anyone. Not even to Harlequin fans! Now, I admit that I don't read many Harlequin books….in fact, I can't remember the last time I read one…. but this one was pretty bad. There are a few spoilers ahead, but since I don't think you should read this, it doesn't matter, right?
I didn't like Fritzi at all. Her name should have been Ditzi. She was a very poor decision maker, beginning with her decision to take her baby to Alaska in the middle of winter and let's not forget running off in the middle of a snowstorm to meet some stranger, whose only contact with her is a single phone call, in an empty schoolhouse. David/Nathan didn't come off as particularly noble. I rolled my eyes so much in the first 100 pages that I almost didn't finish it. But by the time Fritzi was arrested on the spot for the murder of "David Frayne", despite very little evidence (a knife she says was stolen), and then was put in front of an "investigative jury" the next day before being released because some guy comes in and says he's married to her and she was with him, and hey! they all believe *his* alibi!…. well, by that time it was a train wreck I couldn't look away from. It smoothed out a little in the middle, when they actually got to the romance part (which there actually was very little of in the book), but fell apart completely at the end again. Ms. McBride should stick to the romance and leave the suspense to those who actually know what they're doing.
So thank you J.Kaye, for offering me the opportunity to guest review this! It's made me appreciate the good romance I've read even more! 🙂
Page count: 251 | Approximate word count: 50,200
2007: A Complicated Kindness (Miriam Toews)
2006: Killing Floor (Lee Child)
2005: Sudden Prey (John Sandford)