2008: #81 – Last Known Victim (Erica Spindler)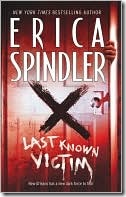 Book #81 was Last Known Victim by Erica Spindler. The back of the book reads:
Captain Patti O'Shay, a by-the-books cop, is assigned to the case. But with the evidence lost to time and the elements, the heinous incident goes unsolved. The perpetrator, known only as "The Handyman," remains at large.

Two years later Patti is still haunted by her own personal tragedy—her husband and fellow police captain was murdered in the post-storm chaos. But when a female victim missing her right hand is unearthed, Patti prepares to return to The Handyman investigation. She is unprepared, however, for what she finds at the crime scene—the victim's bones beside her husband's police badge.

Casting aside all the rules, Patti is fearless in her quest to find the truth…because if she isn't, she could become The Handyman's last known victim.
This was my first Erica Spindler book, and I think I've found a new author! The suspense is good, the characters are believable, and she does a great job of keeping you guessing. There's more than one convincing red herring (I did *not* guess the bad guy!), and you're not really sure if you can really trust Yvette until the very end. Patti wasn't the greatest leading character — I found her to be a little wooden — but the other characters, especially Stacy and Spencer, make up for it. One thing to note: even though this isn't technically part of a series, some of the characters have appeared in earlier Spindler novels, and there is reference to them. But I didn't feel like I was really missing anything by reading this one first.
Thanks to J.Kaye for allowing me to guest review this!
Page count: 522 | Approximate word count: 104,400
2007: A Place Called Freedom (Ken Follett)
2006: Drums of Autumn (Diana Gabaldon)