2008: #93 – Third Degree (Greg Iles)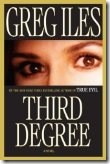 Book #93 was Third Degree by Greg Iles. The back of the book reads:
Sometimes the gravest dangers — and the darkest souls — live right beside us….

In the span of twenty-four hours, every-thing Laurel Shields believes about her life and her marriage to a prominent doctor will be shattered — if she survives a terrifying ordeal. The day begins with the jarring discovery that, soon after ending an affair, Laurel is pregnant. But when she returns home to find her husband ashen, unkempt, and on the brink of violence, a nightmare quickly unfolds. In the heart of an idyllic Mississippi town, behind the walls of her perfect house, Laurel finds herself locked in a volatile standoff with a husband she barely recognizes. Confronted with evidence of her betrayal, she must tread a deadly path between truth and deception while a ring of armed police prepares a dangerous rescue. But Laurel's greatest fear — and her only hope — lies with her former lover, a brave man whom fate has granted the power to save both Laurel and her children — if she can protect his identity long enough….
I've seen a wide range of reviews for this book, and I think I understand why. I had no respect for any of the main characters. Laurel and Danny are cheating on their respective spouses, and Warren is not only holding his family hostage, he's been cheating the government through his business. There were frustrations, like why didn't Laurel fight harder? Why did they insist on keeping the affair a secret, even after discovery? That's probably the point I found most ridiculous… that as Warren found out secret after secret, Laurel still admitted nothing — much to her detriment, and the detriment of her children.
But despite all this, I found myself actually leaning forward in my seat as I listened, completely caught up in the suspense. Turns out, I don't have to like the characters to like the story! I was engaged and anxious throughout the whole thing, because you know there will be no happy ending for everyone… and perhaps for no one. So, if you don't care about the morals of your protagonists, I recommend this as a good read. Otherwise… you should probably skip it.
Page count: 385 | Approximate word count: 108,800
2007: The Woods (Harlan Coben)
2006: Why Girls Are Weird (Pamela Ribon)