2008: #95 – Sweetheart (Chelsea Cain)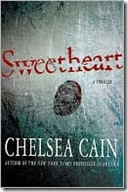 Book #95 was Sweetheart, the second book in Chelsea Cain's Archie & Gretchen series. The back of the book reads:
With Heartsick, Chelsea Cain took the crime world by storm, introducing two of the most compelling characters in decades: serial killer Gretchen Lowell and her obsessed pursuer Portland Detective Archie Sheridan. The book spent four weeks on the New York Times bestseller list and garnered rave reviews around the world. But the riveting story of Archie and Gretchen was left unfinished, and now Chelsea Cain picks up the tale again.

When the body of a young woman is discovered in Portland's Forest Park, Archie is reminded of the last time they found a body there, more than a decade ago: it turned out to be the Beauty Killer's first victim, and Archie's first case. This body can't be one of Gretchen's—she's in prison—but after help from reporter Susan Ward uncovers the dead woman's identity, it turns into another big case. Trouble is, Archie can't focus on the new investigation because the Beauty Killer case has exploded: Gretchen Lowell has escaped from prison.

Archie hadn't seen her in two months; he'd moved back in with his family and sworn off visiting her. Though it should feel like progress, he actually feels worse. The news of her escape spreads like wildfire, but secretly, he's relieved. He knows he's the only one who can catch her, and in fact, he has a plan to get out from under her thumb once and for all.

Chelsea Cain has topped her own bestselling debut thriller with this unputdownable, unpredictable, edge-of-your-seat read.
I think that Chelsea Cain has really explored an area that is rarely seen in suspense fiction… What happens to the victims? What happens to those who have been attacked, tortured, nearly killed? How do they cope? Is it possible to live your life like nothing happened? When this book begins, you think that maybe Archie has started down a new path… He's taking fewer pills, he hasn't seen Gretchen in months, he's moved back in with his ex-wife and kids… But then Gretchen sings her siren song, and once again Archie can't help but to come running. I think in this book, more than in Heartsick, you learn a little more about who Archie really is, and of the true nature of the relationship between he and Gretchen.
There are no "heroes" in this book, but there is a lot of obsession. Archie is obsessed with Gretchen, who is in turn obsessed with him. Henry is obsessed with keeping Archie away from Gretchen. Susan is obsessed with the chase for a story, and not a little obsessed with herself. Everyone has their own personal motives, and these motives push the story along. But in the end they manage to work together to bring about what may not exactly be a happy ending, but is at least some closure.
I think the Senator Cassell (sic) mystery gets a little buried under all of the Archie & Gretchen stuff, but it still has an interesting ending. A third book in this series is due next September, and I can't wait!
Page count: 336 | Approximate word count: 100,800
2007: The Spellman Files (Lisa Lutz)
2006: The Lost Boy (Dave Pelzer)