2008: #97 – The Book of Three (Lloyd Alexander)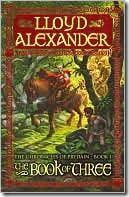 Book #97 was The Book of Three, the first book in Lloyd Alexander's Chronicles of Prydain.  The back of the book reads:
Since The Book of Three was first published in 1964, young readers have been enthralled by the adventures of Taran the Assistant Pig-Keeper and his quest to become a hero. Taran is joined by an engaging cast of characters that includes Eilonwy, the strong-willed and sharp-tongued princess; Fflewddur Fflam, the hyperbole-prone bard; the ever-faithful Gurgi; and the curmudgeonly Doli—all of whom have become involved in an epic struggle between good and evil that shapes the fate of the legendary land of Prydain. Released over a period of five years, Lloyd Alexander's beautifully written tales not only captured children's imaginations but also garnered the highest critical praise.
I thought this was a great story that actually made me quite nostalgic.  One of the first computer games I played extensively was Sierra's The Black Cauldron, which actually uses some of the events from this book as well as the later books in the series. Reading about Taran and Hen Wen was like reuniting with old friends.  This is your classic quest story with a struggle between good and evil and a fair amount of comic relief, between Fflewddur Fflam's lie detecting harp and Eilonwy's penchant for similies. It was a very pleasant read, and I look forward to more adventures of Taran, Assistant Pig-Keeper.
Page count: 224 | Word count: 46,881
2007: Three Act Tragedy (Agatha Christie)
2006: The Kill Artist (Daniel Silva)