2008: Challenges – Read Your Own Books Challenge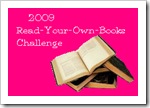 The Read Your Own Books Challenge is exactly what I need to keep whittling down my TBR pile! I tend to get myself caught up in review copies and library books and forget that I have (more than) a few hundred unread books hanging around my living room and bedroom.
The rules for this challenge are super simple:
set a goal for how many of your OWN books you'd like to read in 2009
read from your own collection between January 1st and December 31st, 2009
That's it! The goal I'm going to set is 30.  If I read slightly over 100 books, which I expect to, that means that one-third of them are ones non-review copies. And, to make this a little harder on myself, I'm not counting ebooks or audiobooks in this challenge.  Hard copy only!
I'll be keeping track here:
last updated 12/11/09
Skin Tight – Carl Hiaasen
All Night Long – Jayne Ann Krentz
Kiss of the Night – Sherrilyn Kenyon
Summer Knight – Jim Butcher
Soul Catcher – Michael White
Can You Keep a Secret? – Sophie Kinsella
Whiskey Sour – J.A. Konrath
Drop Shot – Harlan Coben
Full Blast – Janet Evanovich
Dead Girls Are Easy – Terri Garey
Tell No One – Harlan Coben
Sunny Chandler's Return – Sandra Brown
Tripwire – Lee Child
Kitty and the Midnight Hour – Carrie Vaughn
Night Play – Sherrilyn Kenyon
Courting Catherine – Nora Roberts
On Writing – Stephen King
Killer Takes All – Erica Spindler
A Man for Amanda – Nora Roberts
For the Love of Lilah – Nora Roberts
Suzanna's Surrender – Nora Roberts
The Girl with the White Flag – Tomiko Higa
Megan's Mate – Nora Roberts
Unnatural Exposure – Patricia Cornwell
Catching Fire – Suzanne Collins
The Year of Magical Thinking – Joan Didion
Seize the Night – Sherrilyn Kenyon
Death Masks – Jim Butcher
The Book Thief – Markus Zusak
Chill Factor – Sandra Brown