2008: A Giveaway! – A Paragon of Virtue
My first giveaway!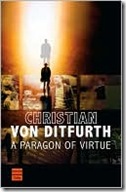 I received my ARC of A Paragon of Virtue by Christian von Ditfurth from the LibraryThing Early Reviewers Group, and now I'd like to pass it on to you!
The back of the book reads:
One by one, over a period of several years, the wife and children of a prominent Hamburg citizen are being slain. Von Ditfurth has crafted a breathtaking thriller that highlights in vivid detail how present the German past is today.
You can read my review here. I thought it was a great read, and I enjoyed reading something that took place in another country and had a non-American point of view.
There are 3 ways to enter!
Leave me a comment. Please make sure you leave a valid email address.
Post about my giveaway on your blog or MySpace or Facebook or wherever! Just leave me a link to your post.
Subscribe to my feed! Just leave me a comment that you did!
Each person is allowed a maximum of 3 entries. Entries will be accepted until midnight on Wednesday, September 10 and I will draw a winner on Thursday, September 11.
Good luck!