2008: The Sunday Salon – Sunday #4

I hope you've had a good week! I've had a busy week, but I did get in some reading.
I finished and reviewed three books this week: Dead Witness by Joylene Nowell Butler, The Good, the Bad, and the Undead by Kim Harrison, and Wed to a Stranger? by Jule McBride. The Kim Harrison book was by far the best book of the week, though Wed to a Stranger? may have been the most entertaining, for entirely different reasons.
Currently I'm reading The Finishing School by Michele Martinez and listening to Hold Tight by Harlan Coben. I'm not very far into The Finishing School yet, but I think it's going to be a good one. I like it so far. Thanks to having to repaint a room this weekend (3 freakin' coats!), I'm already 3/4 of the way through Hold Tight. I currently have mixed feelings about it, but I'm reserving judgement until it all comes together.
Two new additions this week!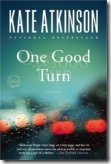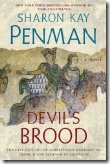 One Good Turn was received through PaperbackSwap. I really enjoyed the first Jackson Brodie novel, Case Histories, so I'm looking forward to this. Devil's Brood is my first ARC! Whee! It's a biggie, so I'm not sure when I'm going to get to it. I'd like to have it read before the release date (October 7, I think), but I don't want to screw up any of my challenges to do it.
And speaking of challenges, the only one I joined this week was The Genre Challenge. Should be an easy one for me.
That's it for me this week! Happy reading!