2008: A Winner! – Matrimony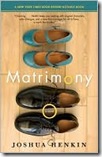 And we have a winner of the signed paperback copy of Matrimony! It's Joy of http://thoughtsofjoyblog.blogspot.com/!
Joy, please send me your mailing information (I am sending you an email) and I will pass it along to Mr. Henkin so he can send you your book!
Stay tuned for more giveaways in the future!