2010: 24-Hour Readathon & The National Book Festival
I am hereby announcing my intent to participate in the next 24-Hour Readathon on October 9. So now I have to do it, right? 🙂
As usual, I will be attacking it with a "come-what-may" attitude. There will definitely be a viewing of the Hokie game (we play Central Michigan that Saturday), but this wouldn't be the first time I read during a football game. I have no idea what I will or won't read, or how much I'll actually read. But that is the way I roll!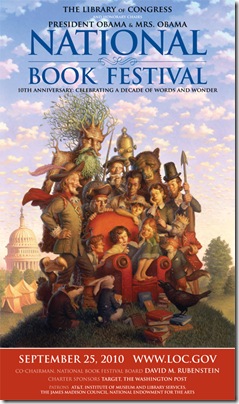 In other news, I'm off to the National Book Festival this weekend! I will be unapologetically dragging my husband and my in-laws from Baltimore to the National Mall on Saturday, where they will probably promptly abandon me for the Air & Space Museum. I'm really hoping to run into other book bloggers there, but unfortunately I can't make it to the dinner that Swapna has so graciously arranged (see: husband and in-laws). I've never been to the NBF before, so I have no idea what to expect.  But here's my tentative schedule of presentations:
| | |
| --- | --- |
| 10:35 – 11:05 | Ree Drummond (or Suzanne Collins if the tent isn't majorly crowded) |
| 11:00 – 11:30 | Diana Gabaldon |
| 11:35 – 12:05 | Elizabeth Kostova |
| 12:45 – 1:15 | Ken Follett |
| 2:05 – 3:05 | Orhan Pamuk (or hanging around the signings tent) |
| 4:15 – 4:45 | Karin Slaughter |
Depending on the boredom level of the rest of the family, I may not be sticking around as long as Karin Slaughter's presentation. I'm bringing some books with me to try to get signed, but if the lines are really long I'll probably skip it.
If anyone's interested in meeting up with me, I'll probably be twittering my location throughout the day, and will try to keep an eye on it.  Also, my cell number is on Swapna's contact list, please feel free to text me!
I hope to see you there!