2008: Challenges – The 2009 Pub Challenge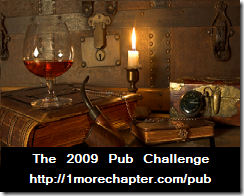 Turns out, it's time to start signing up for 2009 challenges! Which means it's time to start over-filling my plate…
The first 2009 challenge I'm signing up for is the 2009 Pub Challenge hosted by 1morechapter.com. The rules are:
Read a minimum of 9 books first published in 2009. You don't have to buy these. Library books, unabridged audios, or ARCs are all acceptable. To qualify as being first published in 2009, it must be the first time that the book is published in your own country. For example, if a book was published in Australia, England, or Canada in 2008, and then published in the USA in 2009, it counts (if you live in the USA). Newly published trade paperbacks and mass market paperbacks do not count if there has been a hardcover/trade published before 2009.
No children's/YA titles allowed, since we're at the 'pub.'
At least 5 titles must be fiction.
Crossovers with other challenges are allowed.
You can add your titles as you go, and they may be changed at any time.
Sign up HERE using Mr. Linky.
Have fun reading your 2009 books!
I'm not putting together a list yet, I'll be building it as I go!  But here are my placeholders:
last updated: 6/4/09
Plum Spooky – Janet Evanovich
The Lost Hours – Karen White
First Family – David Baldacci
Darling Jim – Christian Moerk
The Mating Rituals of the North American WASP – Lauren Lipton
Dark Places – Gillian Flynn
Reunion – Therese Fowler
April & Oliver – Tess Callahan
Breathers – S.G. Browne
Join me!