2008: Challenges – 9 for 2009 Challenge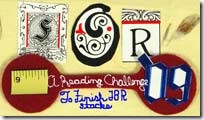 The 9 Books for 2009 Challenge is all about reducing your TBR stack.  The rules are:
Open to anyone, whether you have a blog or not!
No need to register or to announce what you are going to read.
Start in any category that you wish.
2 books from this reading challenge can be used in other reading challenges.
Just post in the comment section.
The genre of the books can be ANYTHING (fiction or non-fiction), but it must be decent (because you have to write reviews about the books).
Other reading materials (graphic novels, poetry, museum catalogs, art books, zines etc.) are OK.
The book must already be in your bookcase or storage area.
The Challenge starts 12/27/08 to 12/27/09. You can post starting on 12/27/08.
Format of work can be paper, audio, or electronic.
There's also a category for each book.  If you go to the site, the categories are explained. I'm not putting together a list yet, I'll be building it as I go!  But here are my placeholders:
Last updated: 7/2/09
Join me!