2008: Challenges – The 999 Challenge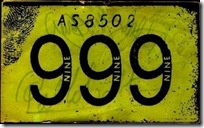 I can only handle a challenge being shoved before my eyes so many times before I cave and join in! The 999 Challenge is both on LibraryThing and on its own blog, and it's a doozy! The rules are simple:
Read 9 books in 9 different categories, all read in 2009. For an added challenge, try completing your books by 9/9/09! You pick the categories yourself, and 9 books can be duplicated.
The hard part for me in this is choosing categories! My list will be below, but I may change it!
last updated: 12/22/09
books duplicated: 9
ARC/Review books
Audiobooks
Non-U.S. Authors
New-to-me Authors
Paranormal
Ebooks
Claus, A Christmas Incarnation – C. John Coombes
Kiss of the Night – Sherrilyn Kenyon
The Prey – Allison Brennan
The Masque of the Black Tulip – Lauren Willig
Undead and Unappreciated – MaryJanice Davidson
Tribute – Nora Roberts
High Noon – Nora Roberts
Killer Takes All – Erica Spindler
The Girl Who Played With Fire – Stieg Larsson
Historical Fiction
Lord John and the Brotherhood of the Blade – Diana Gabaldon
City of Thieves – David Benioff
The Masque of the Black Tulip – Lauren Willig
The Black Tower – Louis Bayard
Cleopatra's Daughter – Michelle Moran
The Book Thief – Markus Zusak
The Boleyn Inheritance – Philippa Gregory
 
 
Li
brary Books

Summer – Edith Wharton
The Beautiful Things That Heaven Bears – Dinaw Mengestu
The Uncommon Reader – Alan Bennett
Amelia Peabody's Egypt – Elizabeth Peters
I Smile Back – Amy Koppelman
The Accidental Human – Dakota Cassidy
Do Not Deny Me – Jean Thompson
Engleby – Sebastian Faulks
Last Rituals – Yrsa Sigurdardottir
Books that have been on my shelf for a long time