2008: #105 – Dexter in the Dark (Jeff Lindsay)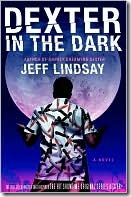 Book #105 was Dexter in the Dark, the third book in Jeff Lindsay's Dexter series.  The back of the book reads:
In his work as a Miami crime scene investigator, Dexter Morgan is accustomed to seeing evil deeds. . . particularly because, on occasion, he commits them himself. But Dexter's happy existence is turned upside down when he is called to an unusually disturbing crime scene at the university campus. Dexter's Dark Passenger – mastermind of his homicidal prowess – immediately senses something chillingly recognizable and goes into hiding. Dexter is alone for the first time in his life, and he realizes he's being hunted by a truly sinister adversary. Meanwhile he's planning a wedding and trying to learn how to be a stepfather to his fiancé's two kids – who might just have dark tendencies themselves. Macabre, ironic, and wonderfully entertaining, Dexter in the Dark goes deeper into the psyche of one of the freshest protagonists in recent fiction.
As much as I enjoyed the first two books in this series…. I just didn't like this one.  In this third installment, Dexter's Dark Passenger becomes its own being, and goes AWOL.  I preferred thinking of the Dark Passenger as just a voice in Dexter's head, not some amorphous lizard thing that makes relatively normal people want to kill. It just rubbed me the wrong way.  The Dark Passenger's absence does create some interesting inner conflict for Dexter, but I think Lindsay just went about it the wrong way.  What I do like about this book is Dexter's growing relationship with Cody and Aster, and it'll be interesting to see where that goes as Cody's own shadow gets more insistent. This wasn't bad enough to make me give up the series, but it was disappointing just the same…
Page count: 320 | Approximate word count: 76,715
2007: Rules of Prey (John Sandford)
2006: Amber Beach (Elizabeth Lowell)