2009: #107 – The Fury (Jason Pinter)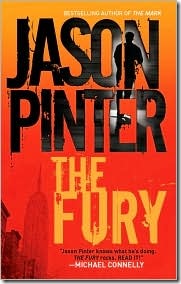 Book #107 was The Fury, the fourth book in Jason Pinter's Henry Parker series.  The back of the book reads:
Am I my brother's keeper?

If I'd known I had a brother, I might have been. But he's dead—shot point-blank in a rat-hole apartment, wasted by hunger and heroin. Stephen Gaines, a man with whom I shared nothing…except a father.

For some reason this stranger who shared my blood came to me for help…and I blew him off thinking he was just some junkie. Now I'm forced to question everything I ever knew…and figure out why this man was murdered in cold blood.

All I can do for Stephen Gaines now is find his killer—and with the help of Amanda Davies uncover the whole, hard truth. If it means tracking down a vicious drug kingpin—who may or may not exist—then so be it…
I didn't realize this wasn't the first in the Henry Parker series until after I started reading it, which is unfortunate since I actually *do* have the first book sitting in my TBR pile.  Thankfully, reading the previous books is not crucial in your enjoyment of this book — you just miss out on some character development, though several previous events are alluded to. Henry's not the easiest guy to like, but I found that I warmed up to him.  He's had an unhappy family life, so when a murder victim turns out to be a brother he never knew he had, you can understand how everything changes for him.  What else has his father not told him?  I thought the suspense and the mystery were pretty good, even if Henry does just stumble across many of the things he "figures out". There's an interesting tie-in to his mentor at the end, and you can see where the next book is going.  I'd read more of this series.
This book was a review copy.
Page count: 336 | Approximate word count: 84,000
2008: The Charlemagne Pursuit (Steve Berry)
2007: Dead Certain (Mariah Stewart)
2006: Chase (Dean Koontz)
Used in these Challenges: 100+ Reading Challenge 2009; Countdown Challenge 2010;