2009: #108 – Coyote Blue (Christopher Moore)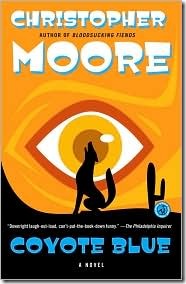 Book #108 was Coyote Blue by Christopher Moore.  The back of the book reads:
From master of subversive humor Christopher Moore comes a quirky, irreverent novel of love, myth, metaphysics, outlaw biking, angst, and outrageous redemption.

As a boy, he was Samson Hunts Alone — until a deadly misunderstanding with the law forced him to flee the Crow reservation at age fifteen. Today he is Samuel Hunter, a successful Santa Barbara insurance salesman with a Mercedes, a condo, and a hollow, invented life. Then one day, destiny offers him the dangerous gift of love — in the exquisite form of Calliope Kincaid — and a curse in the unheralded appearance of an ancient god by the name of Coyote. Coyote, the trickster, has arrived to reawaken the mystical storyteller within Sam…and to seriously screw up his existence in the process.
I have to admit that despite my love for A Dirty Job, I'm not a big fan of Moore's earlier works. Not only are some characters reused (which I don't really have a problem with — nothing wrong with recurring characters!), he uses some of the same stereotypes in every book, it seems.  There's always a mostly-high surfer dude. There's always a cantankerous (and probably homely) old lady. And of course, the earnest (if sometimes misguided) main character.  I think what really rubbed me wrong in this book was Coyote himself.  I know he is supposed to be a "trickster" spirit, but I found him more mean-spirited than anything.  Especially when he steals Sam's car, sells it, and gambles away his bank account.  I think you're supposed to find his naiveté endearing, but I didn't.  I'll keep reading (or rather, listening) to Moore's books, but mostly because they're what my husband wants to hear.
Other reviews:
What Cheesy Reads: Coyote Blue by Christopher Moore
Books & other thoughts: Coyote Blue
Puss Reboots: Did I Think of That?
Audio length: 10 hrs 20 min | Approximate word count: 80,000
2007: Birds of a Feather (Jacqueline Winspear)
2006: The Body Farm (Patricia Cornwell)
Used in these Challenges: 100+ Reading Challenge 2009;