2009: #124 – Death Masks (Jim Butcher)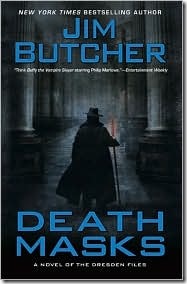 Book #124 was Death Masks, the 5th book in Jim Butcher's Dresden Files.  The back of the book reads:
Harry Dresden, Chicago's only practicing professional wizard, should be happy that business is pretty good for a change. But he also knows that whenever things are going good, the only way left for them to go is bad. Way bad.

Recent examples: A duel with the lethal champion of the Red Court, who must kill Harry to end the war between vampires and wizards…Hit men using Harry for target practice…The missing Shroud of Turin-and the possible involvement of Chicago's most feared mob boss…A handless and headless corpse the Chicago police need identified…

Not to mention the return of Harry's ex-girlfriend Susan, who's still struggling with her semi-vampiric nature-and who seems to have a new man in her life.

Some days, it just doesn't pay to get out of bed. No matter how much you're charging.
I liked this a bit more than the last Dresden book. The plot felt more solid and easier to follow, though there still wasn't enough Murphy or Bob.  I really like Murphy and Bob.  I'm not as big a fan of the Knights of the Cross and that whole side to the story.  And I'm hoping this whole vampires vs. wizards war ends soon, because it's really being dragged out.  I like Harry best when he's trying to figure out a mystery rather than running for his life.  I'll continue with the series, but I'm definitely hoping for a sea change.
Other reviews:
bookshelves of doom: Death Masks: The Dresden Files #5 — Jim Butcher
Bitten by Books » Death Masks by Jim Butcher
Books Lists Life: Two Quickie Reviews
Page count: 352 | Word count: 108,216
2007: Sea Swept (Nora Roberts)
Used in these Challenges: Read Your Own Books Challenge; Countdown Challenge 2010