2009: #17 – Kiss of the Night (Sherrilyn Kenyon)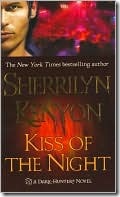 Book #17 was Kiss of the Night, the 5th (?) book in Sherrilyn Kenyon's Dark-Hunter series.  The back of the book reads:
Wulf is an ancient Viking warrior with a useful but extremely aggravating power-amnesia. No one who meets him in person can remember him 5 minutes later. It makes it easy to have one-night stands, but hard to have a meaningful relationship, and without true love he can never regain his soul. When he finally meets Cassandra, the one woman who can remember him, she turns out to be the princess of the cursed race he's sworn to hunt-and forbidden to him. The two of them must face ancient curses, prophecies, and the direct meddling of the Greek gods to find true happiness at last.
I enjoy the Dark-Hunter books not only because they have some hot and steamy romance, but because I think that Kenyon's created a really interesting mythology here.  I learned a lot more about Apollites and Daimons in this book, and I think I'm finally starting to understand the big picture a little more. Plus, you know, there's the hot and steamy stuff.
Page count: 384 | Word count: 94,653
2008: Relic (Douglas Preston & Lincoln Child)
2007: At Bertram's Hotel (Agatha Christie)
2006: Cerulean Sins (Laurell K. Hamilton)
2005: The Hearing (John Lescroart)
Used in these Challenges: The Countdown Challenge; 100+ Reading Challenge 2009; 2009 eBook Challenge; The 999 Challenge; A-Z 2009 Challenge; Read Your Own Books Challenge; What's in a Name Challenge