2009: #16 – Full Speed (Janet Evanovich)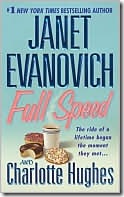 Book #16 was Full Speed, the 3rd book in Janet Evanovich's Max Holt series.  The back of the book reads:
Dear Reader,

Welcome to the world of Jamie Swift and Max Holt! My good friend Charlotte Hughes and I have teamed up to create a series of books featuring these two characters and they've taken on a life of their own! These books are not set in the same world as my Stephanie Plum novels, but what they have in common is lovable, dysfunctional characters, villains you love to hate, and a cross-eyed way of looking at life. Jamie and Max have intense chemistry-even though they drive each other crazy. Max thinks Jamie is a magnet for trouble and Jamie thinks Max is the most annoyingly sexy, mysterious man she's ever met. She knows she should stay away from him. But boy, oh boy, do the sparks fly when they get together. Jamie is a newspaper owner from a small southern town. And in Full Speed, she's after the story of a lifetime. Max Holt is right in the middle of that story, and so Jamie tracks down the millionaire playboy, forcing him to take her on as partner. What follows is a story of a corrupt minister, a gang of mobsters on the loose, a hound dog called Fleas, a wise-cracking computer genius, and lots of love in the fast lane. Not to mention plenty of steamy action between Jamie and Max.

So have fun with Full Speed. We're going to sign off now and get back to creating more romantic adventures between Jamie Swift and Max Holt. Enjoy and happy reading!

Janet and Charlotte
Full Speed picks up almost exactly where Full Tilt leaves off, with Max and Jamie headed out of South Carolina and into Tennessee in search of the mysterious Reverend Harlan Rawlins.  The Reverend appears to want Max dead, and he and Jamie want to know why. This book had all of the madcap zaniness you've come to expect from a book with "Evanovich" on the cover, but this one wasn't as good as the past two.  I felt like a lot of the heat was missing between Max and Jamie.  Hopefully they'll find it again in the next book? I did enjoy the truck-lovin', country-western-hatin' hound dog, Fleas, and hope we see more of him in the future.
Audiobook length: 6hrs 55min | Word count: 61,083
2008: Dead Until Dark (Charlaine Harris)
2007: Flowers in the Attic (V.C. Andrews)
2006: Blue Moon (Laurell K. Hamilton)
2005: The Austere Academy (Lemony Snicket)
Used in these Challenges: 100+ Reading Challenge 2009; 2009 Audiobook Challenge; The 999 Challenge;