2009: #44 – Fractured (Karin Slaughter)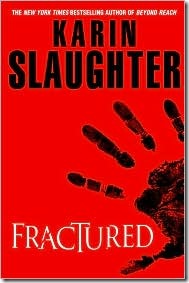 Book #44 was Fractured, the second Will Trent book by Karin Slaughter.  The back of the book reads:
Karin Slaughter dazzled readers and critics alike with Triptych, her New York Times bestselling suspense novel set in metropolitan Atlanta. Now the #1 internationally bestselling author returns to the damaged landscape she knows so well in a bold new novel—at once a powder keg of suspense, a gritty portrait of a cop's life, and a searing exploration of a shocking crime and its aftermath…

With its gracious homes and tree-lined streets, Ansley Park is one of Atlanta's most desirable neighborhoods. But in one gleaming mansion, in a teenager's lavish bedroom, a girl has been savagely murdered. And in the hallway, her horrified mother stands amid shattered glass, having killed her daughter's attacker with her bare hands.

Detective Will Trent of the Georgia Bureau of Investigation is here only to do a political favor; the murder site belongs to the Atlanta police. But Trent soon sees something that the cops are missing, something in the trail of blood, in a matrix of forensic evidence, and in the eyes of the shell-shocked mother. Within minutes, Trent is taking over the case—and adding another one to it. He is sure that another teenage girl is missing, and that a killer is on the loose.

Armed with only fleeting clues, teamed with a female cop who has her own personal reasons for hating him, Trent has enemies all around him—and a gnawing feeling that this case, which started in the best of homes, is cutting quick and deep through the ruins of perfect lives broken wide-open: where human demons emerge with a vengeance.
I really loved Triptych when I read it, but it took me some time to warm up to Fractured. Will Trent is a very unconventional main character — after all, he's a GBI investigator that can't read. He's awkward, socially inept, and at times, easily flustered. I tend to waffle back and forth in my belief of the scenario but by the time I get to the end, I have to admit that I feel for him.  Slaughter takes his illiteracy and really makes it matter, as his dyslexia leads to him discovering some key facts later than he should. I'm glad she's decided to give him a partner and really test his comfort zone.  I think it makes him more of a fully flushed-out character, and that's why I root for him in the end.
But enough about Will! The real mystery here, What Has Happened to Emma?, is a good one.  Not only is this the story of a brutal kidnapping (or murder? or both?), but much like in Triptych, you're never completely sure who are the good guys and who are the bad.  Also, Slaughter does a good job of telling a story about the foster care system, and how shared upbringings can have very different results.  There is not yet a third book in this series, but I hope there will be.
Audiobook length: 12hrs 50min | Approximate word count: 120,000
2008: Death by Rodrigo (Ron Liebman)
2007: Cards on the Table (Agatha Christie)
2006: Turning Angel (Greg Iles)
2005: King's Oak (Anne Rivers Siddons)
Used in these Challenges: 100+ Reading Challenge 2009; 2nds Challenge; The 999 Challenge; What's in a Name Challenge;